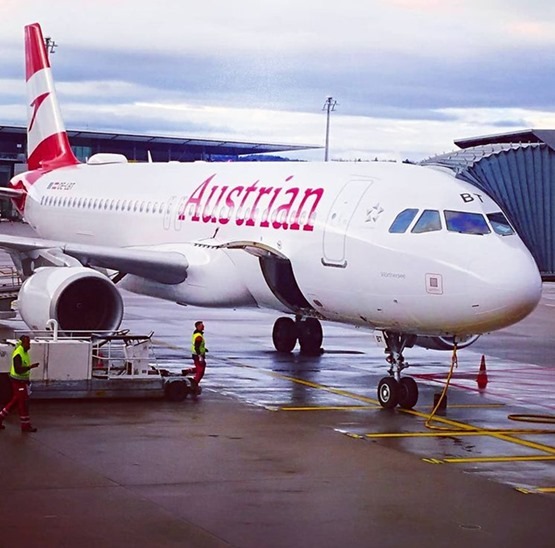 Lately it seems I am having nothing but problems booking international flights, and then taking those flights with a lot of hassle.
Case in point, my recent disaster with an Aer Lingus flight, and now this week's problem with a flight I booked through Expedia.
A company with a customer service representative who is currently telling me the flight I booked because it allowed changes, cannot be changed as there are "no flights available to Europe showing on Expedia's end".
Now that is strange, as I am currently looking at more than 30 flights on Expedia's own website I could take on any of the days I want to fly.
Here then is my latest problem with Expedia, and my opinion why you should not book a flight via Expedia to Vienna, Austria or anywhere else for that matter.
Not if you prefer hassle-free travel, not to be price-gouged, and the easy ability to change a flight should it become necessary.
Booking a specific flight as it allows changes — for a fee
I recently booked a flight from my parents' home town in North Carolina back to my home town of Vienna, Austria.
A flight that originated on a United flight, and ended on an Austrian Airlines flight — via Newark, New Jersey and Brussels, Belgium.
The flight was an affordable price, had decent flying times and arrived in Vienna at a reasonable time the following day.
I booked and paid for the flight, and thought nothing more about it until, due to family issues, realized I would not be able to take the flight on October 6th, but would instead need to take it a couple of weeks later.
"No worries", I thought, as I had deliberately chosen a flight that did allow changes, as I do occasionally need to change flights.
But, when I tried to change my flight on Expedia's website, while I was given several options for flights, when I tried to pay for any of the options, a pop up message told me "We're having trouble completing your change", then asked me to call their customer service department.
No surprise there, as Expedia's website only works correctly when you are booking a flight and paying them.
As soon as you need to make any changes,however, or even cancel a flight within the allowed 24 hours-from-booking time frame, their website rarely works.
Methinks the website is programmed to be that way.
Calling Expedia customer service to change a flight to Vienna
One call to customer service about changing my flight to Vienna, however, and I was disconnected by the first customer service rep almost immediately.
My second attempt led me to a customer service rep who, after checking on the $31.57 fare difference I had been quoted on Expedia's website, told me that fare difference had now changed to almost $600.
(See my screenshot of the original $31.57 fare difference below. A difference that is still showing the same for me via Expedia's website 5 hours after the first customer service rep told me the increase would be almost $600).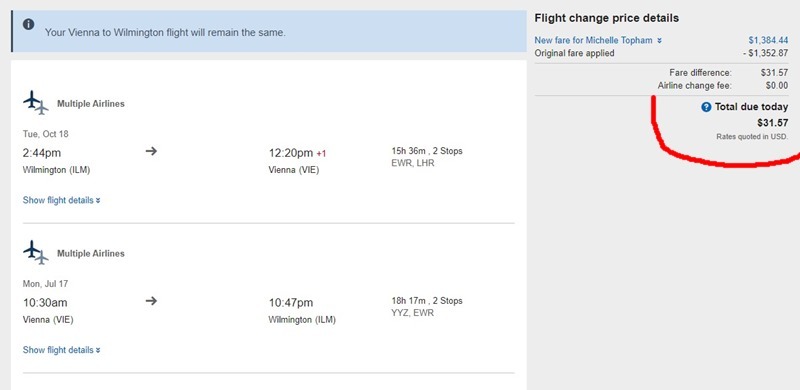 According to her, the fee was "the real time fee from the airline". A fee that had increased by almost 19x the price I had been quoted on Expedia's website just 15 minutes before.
I then tried to change my flight via the Expedia website again, while I was still on the phone with the customer service rep, to again be informed by the website the fare difference due was $31.57.
The customer service rep, however, insisted the fare increase was almost $600.
I then ran another search on Expedia to find out the cost of the flight she was talking about, as maybe the airline had increased the price of that flight by $590 since I last looked at.
But no, that wasn't the case either.
In fact, the price of the flight was within $10 of the same price I had paid several weeks previously.
At this point, frustrated at Expedia's never-working-correctly-website and useless customer service reps, I hung up.
A third attempt at contacting Expedia's customer service via their app was equally unsuccessful as, after around 40 minutes, the rep I was talking to told me there wasn't one available flight to Europe on either of the dates I wanted (odd again, as several flights were definitely available via Expedia's website if I booked a new flight), and then she disconnected the chat.
And now I am angry, as I have just wasted more than 3 1/2 hours trying to make what should be a simple change of flight via a non-functioning website and several unhelpful Expedia customer service reps.
A simple change of flight, if I wasn't dealing with this company, their incompetent and often quite rude customer service reps, and Expedia's typical price-gouging and thievery.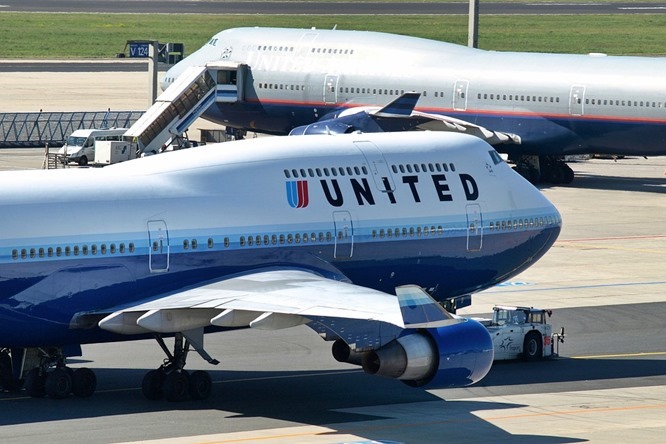 Why you should not book a flight via Expedia from Vienna, Austria or anywhere else
Being the Internet addict I am, I then looked at Expedia's social media accounts, Reddit, and various travel websites, only to discover more people than I could count complaining about Expedia and their useless customer service reps.
Some people are even suggesting they are deliberately trained to be this way, as the people in charge of Expedia have no interest in either refunding the cost of flights/hotels/trips etc., or of allowing you to change your flight for what should be an affordable charge.
With an ability to book any flight you want to take directly via the airline's website, and usually experiencing better customer service if you need help at a later date, it bemuses me why anyone would book through Expedia?
Especially as, if you run a price comparison for a flight booked through Expedia versus the same flight booked via the website of the airline you will be flying, in the majority of cases the price is the same or cheaper via the airline's website.
Case in point, after having issues with Expedia several times this year, I ran a cost comparison for a flight from Vienna to the United States in April, 2023 via United Airline's website versus the cost of the same flight via Expedia.
United's website offered me a Premium Economy flight for a price only $8 more expensive than Expedia was offering for a Basic Economy fare.
Expedia's slightly cheaper fare, on the other hand, was non-refundable and required a fee for a time or date change.
Guess which one I booked? And no, it was not the flight through Expedia as that company is now one I will be avoiding like the plague.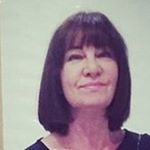 Latest posts by Michelle Topham
(see all)