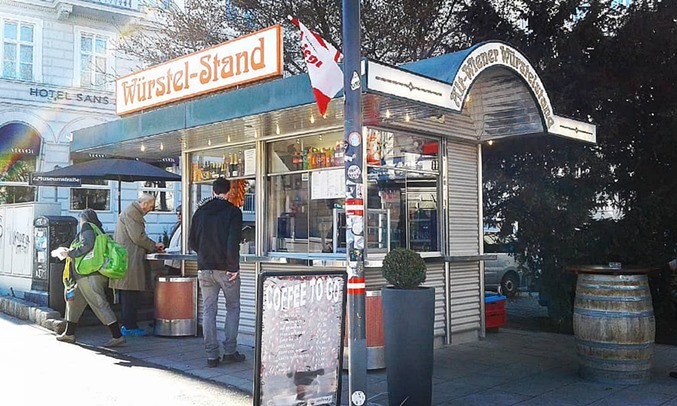 Not everything is closed on Sundays in Vienna, Austria
One of the things I thought I would not like when I moved to Vienna, Austria seven years ago was shops being closed on Sundays.
After all, I had just spent 14 years in Thailand where shops and malls are open 365 years a day. Including on all national holidays.
In Vienna, however, many places are closed on Sundays, including most shops.
In my mind, at the time, that meant there was nothing open on Sundays in Vienna. Right?
Wrong.
In fact, not only is there plenty to do on Sundays in Vienna but, if you don't like to have activity going on around you seven days a week, there are plenty of quiet places to enjoy in the city as well.
So, if you are moving to Vienna or just heading here for a short trip or vacation, and want to know what is open in Vienna on Sundays, here are just a few of the places you can enjoy.
What is open in Vienna, Austria on a Sunday?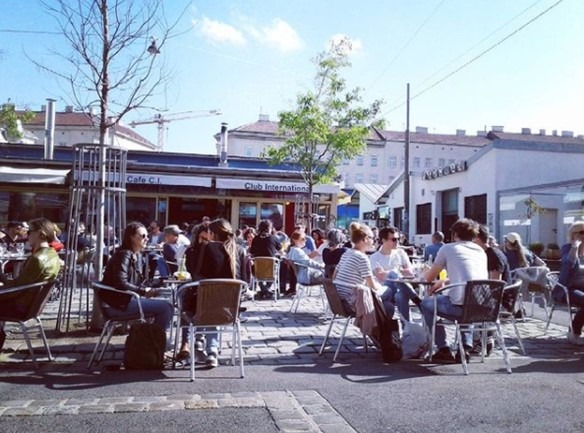 Restaurants, cafes and bars are open on a Sunday in Vienna
Austrians love to hang out with friends and family while enjoying a drink, a snack or a full meal, and Vienna is the perfect place to do that on a Sunday.
Not only is just about every restaurant, cafe and bar open on Sundays, but they are also full of people. That makes heading to a local eatery or bar fun, as well as a great place to people watch.
Many restaurants also offer excellent breakfasts, including traditional Viennese breakfasts, and brunch.
These 10 best places for a late breakfast or brunch in Vienna are a great place to start.
Every major museum in Vienna is open on a Sunday
If you enjoy a good museum, there is no better city anywhere in Europe for world-class museums, and every single one of the city's major museums is open on Sundays.
These include the Kunsthistorisches Museum (the Art History Museum), the Albertina Museum, the Naturhistorisches Museum (the Natural History Museum), the Belvedere (Museum and Palace), the Leopold Museum (modern art), the MAK (Museum of Applied Arts), the mumok (Museum of Modern Art), the Museum of Technology, and The Jewish Museum.
You can find information about other museums in Vienna that are also open on Sundays via the Vienna Tourist Board (which in itself is an excellent resource for anyone visiting the Austrian capital).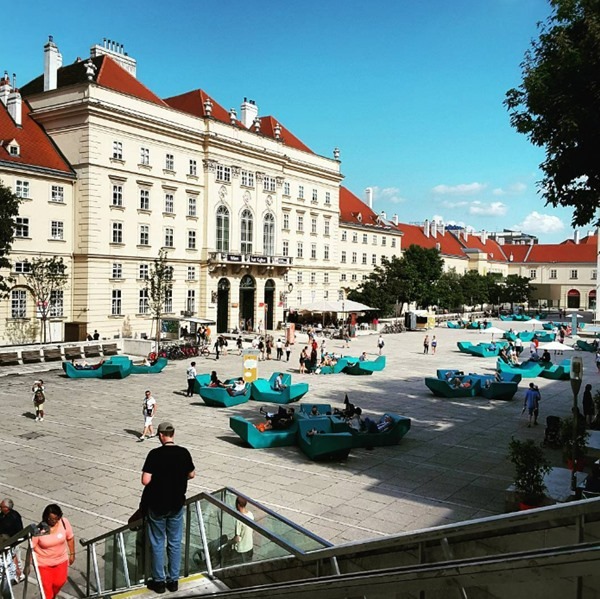 Museums Quartier, Vienna
The Museums Quartier is 'the Museum Quarter' or cultural center of Vienna.
Once the stables of the Hofburg Palace, and built around an enormous courtyard where people sit or lie on huge chairs and relax with friends, and encircled with restaurants, cafes and bars, the Museums Quartier is a wonderful way to while away a few hours on a Sunday.
You can even bring your own drinks if you don't want to pay the higher bar prices. Yep, they're that relaxed here.
Three museums are also located at Museums Quartier — the Leopold, the mumok and the Kunsthalle — as well as an excellent museum book shop (watch the video below), and a gift shop selling some incredibly unique items.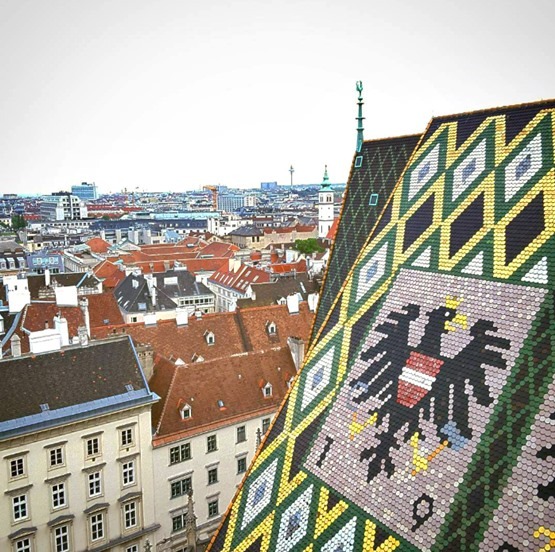 Stephansdom (St. Stephens Cathedral)
Another place open on a Sunday in Vienna (obviously) is Stephansdom.
Not only is Stephansdom, aka St. Stephens Cathedral, one of the most beautifully elaborate cathedrals you will ever set foot in, you can also take an elevator to the roof where you get an amazing view of Vienna.
There are also guided tours every afternoon, both of the cathedral and the catacombs.
And an added benefit? The area outside the cathedral is full of cafes, bars and restaurants, and many of the shops are also open in this area on Sundays, as it is one of Vienna's busiest tourist spots.
You will find more information, including ticket prices for the roof and tours (the cathedral itself is free) at the Stephansdom website.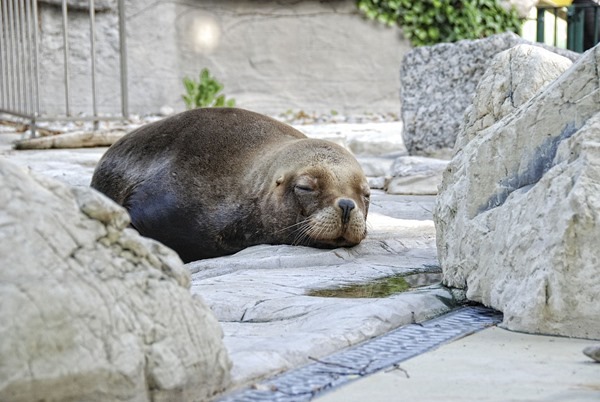 Schönbrunn Zoo is open on a Sunday
Schönbrunn Zoo is the world's oldest zoo and, yes, it is open on Sundays.
It is also an official UNESCO World Cultural Heritage site, with more than 700 species of animal and with enclosures that were created especially for the animals' comfort.
The zoo itself describes its animal attractions thus:
Spread across a 17 hectare site, visitors can see 700 different species, some of which are critically endangered, from all over the world: including giraffes eye-to-eye from a purpose-built gallery, orangutans swinging from rope to rope, Siberian tigers dozing on their platforms, koalas munching their way through piles of eucalyptus leaves, and African elephants wallowing in their mud baths. Rolling around and digging in the sand, the playful meerkats are a firm visitor favourite.
And yes, that does include a pair of giant pandas. Two of only a few outside China.
You can watch the animals being fed, visit the multi-story rainforest house, or take a ride around the zoo on the Schönbrunn Panorama Train. Your kids will love it.
You will find more information about Schönbrunn Zoo, including ticket information, on the zoo's website.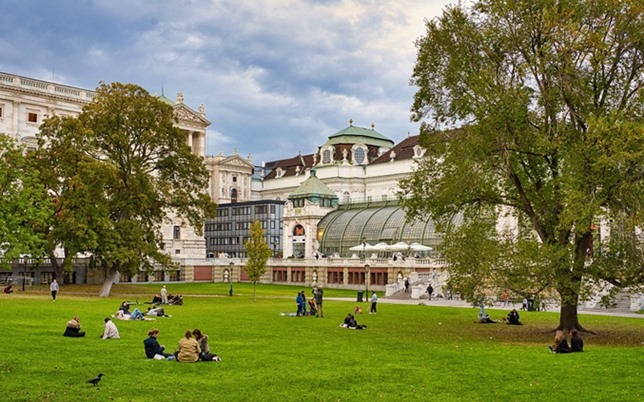 Vienna's parks are open on a Sunday and perfect for a picnic, a leisurely stroll or even a nap
Vienna has some of Europe's biggest and most beautiful parks, and they are all open on a Sunday.
Head to Volksgarten, Stadtpark, Praterpark, Donaupark, City Hall Park, the Augarten or Burggarten and you will find roses in the spring, lush flowerbeds, ponds, statues, endless walking paths and even free sun loungers where you can take a nap for hours.
Learn more about what Vienna's main parks have to offer via the Vienna Tourist Board.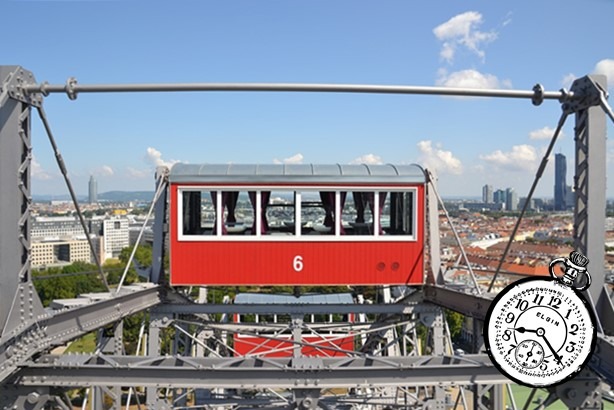 Prater Amusement Park
One of the world's oldest amusement parks, Prater, is open on a Sunday and features hundreds of things to do, with everything from rollercoasters to a ghost train, water rides, bumper cars, carousels, the world's oldest Ferris wheel, a free fall tower, a mini railway, miniature golf, a gaming area, a haunted castle, a hall of mirrors, a miniature railway and many more.
Prater also features a slew of restaurants, cafes and food stands, as well as many other attractions.
You will not be able to experience everything at Prater on just one Sunday, but you can at least get started, eh?
These are just some of the many places open on a Sunday in Vienna. Keep checking back, as I will be updating this regularly.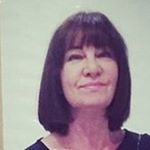 Latest posts by Michelle Topham
(see all)