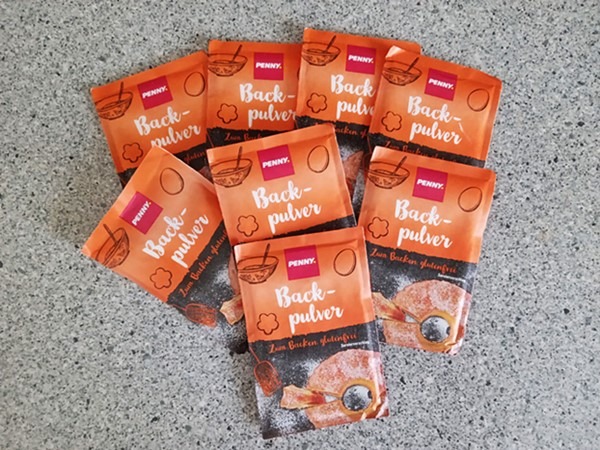 If you are baking a cake in Vienna, you will need to know where to buy baking powder and what it's called
If you have just moved to Vienna, Austria or are here on a visit and staying in an apartment, chances are you are cooking many of your own meals.
Along with the main course, bread, cake, cookies or another type of dessert is something many people love but, if you do not speak German, finding all the ingredients for your desired baked product or dessert can sometimes be a challenge.
During my first month living in Vienna for instance, I found myself at the supermarket one afternoon with no idea how to find the baking powder.
And no I didn't have access to the Internet because, as I always seemed to mistakenly do back then, I had left my phone at home.
Not having any idea what baking powder was called in German, and not wanting to buy baking soda instead of the product I needed, I finally had to ask an English-speaking staff member if she could point me in the right direction as I was planning on making a cake.
Just in case you are wondering where to buy baking powder in Vienna then, and how to ask for it in German, here is everything you need to know.
Where to buy baking powder in Vienna, Austria?
Unlike baking soda which, bizarrely if you are American or British, does not seem to be sold at several supermarkets in Vienna, baking powder is sold at just about all of them.
The product you are looking for is called Backpulver, and is usually in the cooking/baking aisle of any of the larger supermarkets.
Every branch of Hofer sells it, as does Penny Markt, Spar, Billa, and Lidl.
Most of the supermarkets I have visited at least only sell a packet of six sachets of baking powder (see top photo of 8 sachets of Backpulver from Penny Markt), with each sachet usually holding 15 grams of powder.
For baking cakes, cookies or any other dish, that will give you enough baking powder for several days of baking.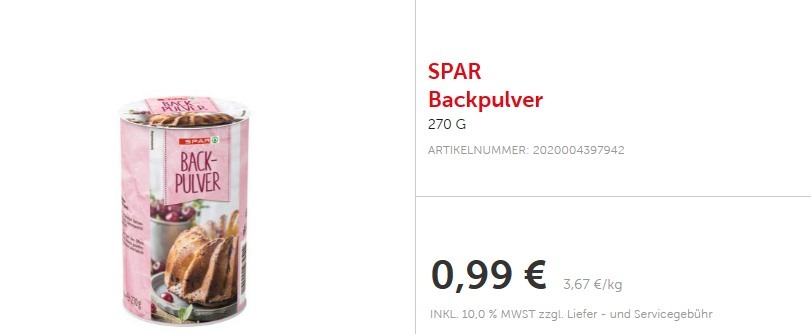 In hypermarkets like Interspar (the larger branches of Spar), you will also find boxes or containers of Backpulver, with a weight of 270 grams or above. (See photo of Spar's larger container above)
Price-wise, for the smaller six x 15 grams of Backpulver sachets, I usually pay between 35 cents and 40 cents depending on the supermarket (Hofer and Penny Markt are usually the cheapest options for many food products).
A can or box of Backpulver usually sells for around 1 euro or just slightly more. In most cases, you will save a few cents if you buy the larger size than several packets of the smaller sachets.
As for the quality of baking powder in Vienna supermarkets, I have bought it from all of them at one time or another and all of them sell an exceptionally good quality product.
Do be aware, though, if you can find the supermarket's own brand baking powder, (like the Spar brand above), they will usually be the cheapest.
In other words, the easiest way to buy baking powder in Vienna is to simply grab it from the supermarket closest to you.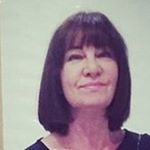 Latest posts by Michelle Topham
(see all)