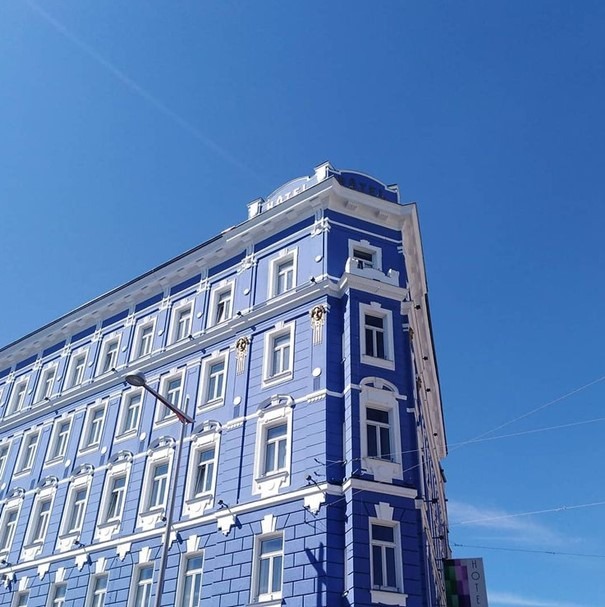 Photo of the Day – The facade of Vienna's Boutique Hotel Donauwalzer
I am a fanatic when it comes to taking photographs around Vienna.
Especially when 'looking up', because Jesus, Vienna has some of the coolest buildings on the planet when it comes to architecture that most people walking around the city miss, simply because they don't look up as they walk.
Take Boutique Hotel Donauwalzer — an independent hotel located close to where I live, and one I pass often on my daily walks.
Recently, Boutique Hotel Donauwalzer did a repaint of the facade of their building and, wow, is that color beautiful.
Particularly when it is viewed against Vienna's almost-cloudless sky.
A Vienna sky that I love, as so many beautiful days are 'just blue', with only a wisp of a cloud in the distance.
As for Boutique Hotel Donauwalzer, you can find them on their official website here.
The hotel has been open since 1901, their rooms are all beautifully unique (they call them 'Viennese Originals'),  they offer a slew of services and wow, that facade though.
Oh and, by the way, this is just one of the rooms at Boutique Hotel Donauwalzer. A hotel I will definitely be booking for my parents on their next visit.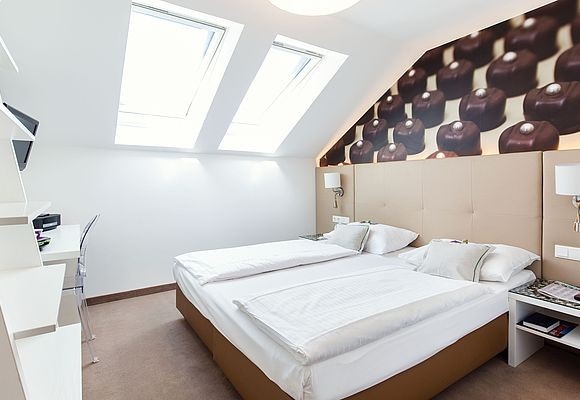 If you are interested in booking at the Boutique Hotel Donauwalzer too, here is where you will find it.
A superb location just a couple of blocks from two different U-bahn stations, minutes by train or tram from some of the city's most interesting tourist attractions, and close to a slew of restaurants, clubs and shopping districts. (And yes, the tram does stop right outside the hotel — see, convenient!)
The city's hip 'Yppenplatz' with its many bars and restaurants, and Vienna's largest open-air market, Brunnenmarkt, is also only a couple of blocks' walk away.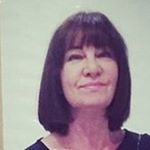 Latest posts by Michelle Topham
(see all)