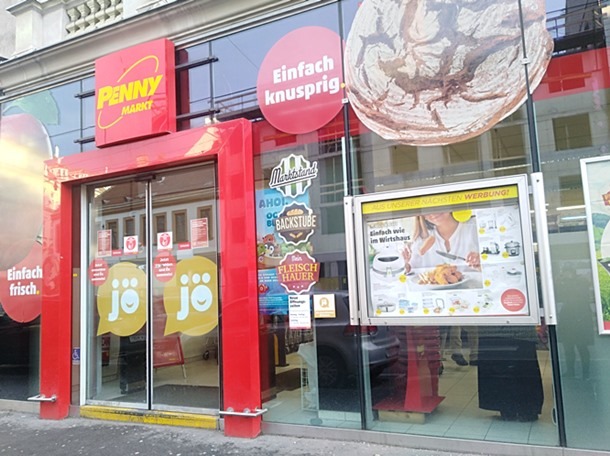 I am one of those annoying food shoppers who rarely shops anywhere but the cheap supermarkets in Vienna.
I grew up in a middle-class family, where both my parents worked hard for what they had, and neither saw the need to spend ridiculous amounts of money on food at expensive supermarkets when the same eggs, cheese, bread, beans, milk, fish, chocolate etc. could be bought at discount supermarkets for sometimes half the price.
So, when I moved to Vienna over five years ago, my cheapskate mentality for basic food products came with me.
That is why, other than for a few specific items at specialty supermarkets, I do 100% of my food shopping at either Hofer or Penny Markt in Vienna.
Both are discount supermarkets that offer high-quality fresh, frozen and packaged food products at ridiculously cheap prices.
So much so, most months I manage to feed myself very well and very healthily on less than 80 euros.
Penny Markt in Vienna
Lately, though, I have been doing most of my grocery shopping at Penny Markt in Vienna.
I find the staff at most stores friendlier than at many other Vienna supermarkets including Hofer (come on, it's Vienna, people here have a reputation for not being the world's most friendly or helpful).
Penny Markt also sells almost everything I need, and there are two stores within four blocks of my house.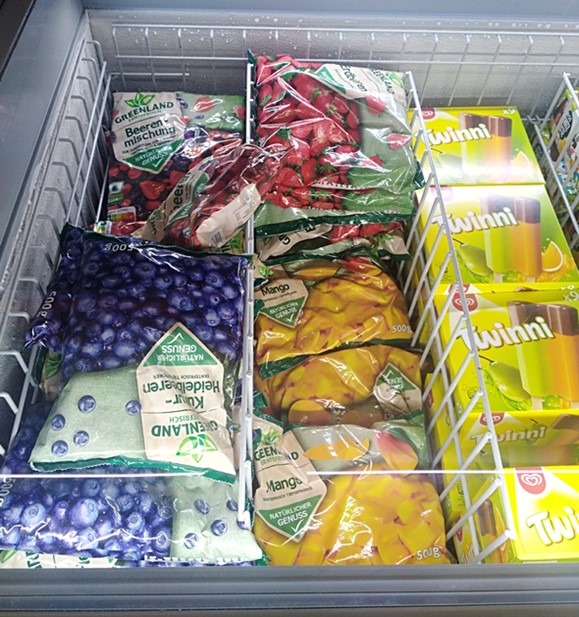 Food at Penny Markt
Shopping for food at Penny Markt, Vienna is easy as they carry just about everything you need. In fact, once I discovered Penny Markt, the only thing I now buy at the open air market near my house is not-so-common fresh fruit and vegetables that most other supermarkets in Vienna wouldn't carry either.
Other than that, fruit, vegetables, grains, cereals, rice cakes, coffee, herbal teas, honey, jams, peanut butter, pasta, rice, bread (baked on the premises, so always fresh), canned foods, dried foods, milk, soy milk, cheese, yogurt, eggs, meat, fish, chocolate, cookies, cakes, nuts, every type of frozen food you could want, cleaning products, shampoo and conditioner, baby products, bottled drinks, beer, wine, spirits, and on and on — you name it, Penny Markt in Vienna sells it.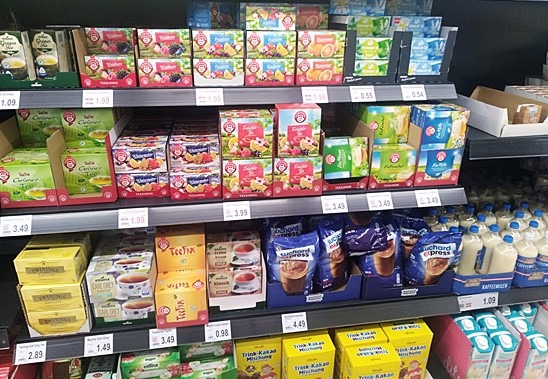 They even carry things like a potted plants, different ones every week. I have bought a couple over the last year and, even with my absolutely black thumb, they have still survived. The plants I bought at a market stall near my house, however, didn't fare so well.
If you are vegan, or leaning in that direction, Penny Markt Vienna also sells organic products and has a variety of vegan offerings.
Finally, unlike Hofer, that often seems to be out of stock of things I need, I rarely get to Penny Markt and cannot buy exactly what I want. Hofer could learn a lesson from Penny Markt's ability to keep their shelves fully stocked, I think.
Weekly sales on specialty products
Penny Markt supermarkets in Vienna also run weekly sales, which tend to offer prices on select products at lows I rarely see outside Austria, and every week they sell different specialty items — clothes, coffee pots, laundry hampers, shower curtains, kitchen pans etc at great prices — this week their specialty items are car covers, car accessories and car mats, among other things. (see flyer below)
The only other thing you need to know about these products, other than that they are uniformly high-quality, is they are only sold for one week (unless they have a few units left over, and you might be able to grab them for a few days after that).
The next week, the products will be entirely different, and this goes on throughout the year with Penny Markt selling specific products only at specific times of year.
That is why at least one weekly trip to Penny Markt in Vienna is a must for me, as you never know what new things you might find.
For anyone else who prefers to buy food at a cheap supermarket in Vienna (discount supermarket is a 'nicer term', I suppose), I recommend Penny Markt.
Prices are affordable, in the five years I have shopped there I have never bought a product that wasn't fresh, their own brand foods are very high-quality and very tasty (you can buy 3 full-sized salami pizzas for under 2.50 euros, how crazy is that, and they taste great), they have locations all over Vienna and, to me, at least in the Penny Markt branches I shop at, their staff is just that little bit friendlier.
You will find the Penny Markt Austria website here, where you can check out many of their products along with their weekly sales.
The locations of all the Penny Markts in Vienna are on the Google Map below.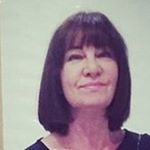 Latest posts by Michelle Topham
(see all)